Police sergeant saves two lives in one night | News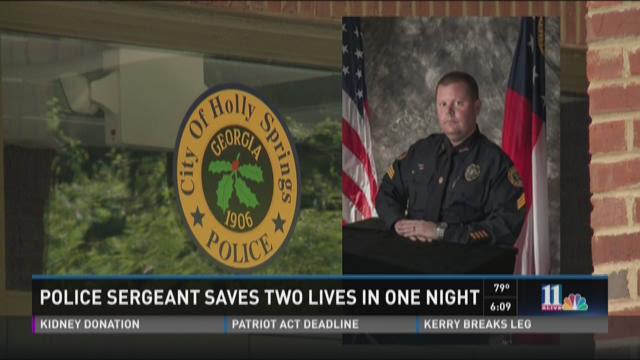 HOLLY SPRINGS, Ga. -- One Holly Springs Police Sergeant earned his keep Saturday night saving two lives during one shift.
Ronnie Callahan stepped out onto his Holly Springs porch Saturday night.
"I've never had a feeling like that when I come out on that porch," said Ronnie Callahan, homeowner.
Down the hill he could see flames.
"Seeing that fire, knowing their situation," said Callahan.
They poured from the house where his disabled sister and elderly mother slept.
"I couldn't even dial 911," said Callahan.
Within moments, a Cherokee County Deputy and a Holly Springs Police Sergeant Nathan Ernst sprang into action.
"I had my doubts because I heard my mother screaming and I thought it was too late," said Callahan.
They busted through the door.
"Without any hesitation they went beyond their duty, there's no doubt about it," added Callahan.
They saved Callahan's sister from a tragic death.
"She would probably have burnt up, I want to thank them, they're my heroes," said Callahan.
Callahan isn't the only person calling Holly Springs Police Sergeant Ernst a hero Sunday.
Two hours before the fire, Ernst saved a man from a drug overdose using a special shot.
The same shot he used a year ago as the first Georgia officer to save a person's life this way.
The 24-year-old from Saturday night is recovering at a local hospital.
Back at the burned out home, Ronnie Callahan reflected.
"We could always replace something like a house you know but we couldn't replace her," said Callahan.
Knowing full well without the quick actions of the men who responded his sister wouldn't be alive.
Sergeant Ernst, the deputy he worked with on the fire, and Callahan will be speaking to the media as a group later Sunday.